If you are a fast bowler or a batsman then practicing with the following cricket balls can help you improve your skills as a bowler or batsman.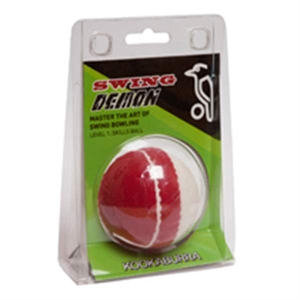 We currently have three balls each with different characteristics to help you improve your bowling and batting skills. The Swing Demon soft cricket balls by Kookaburra or Swing King balls from GM are an excellent choice to learn and bat against the swinging ball, the balls are constructed with a smooth surface on one side and a rough surface on the other half. The smoother surface which is red in color if pointed outward produces an out-swinging delivery and when a bowler is holding and delivering the ball pointing inward then the ball swings into the batsman. This is not a hard cricket ball so it can be used without protection and used for training and fun.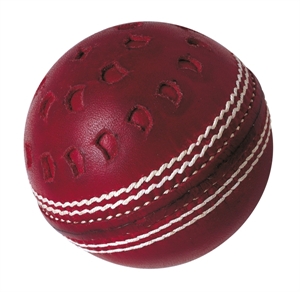 The second nice training aid is the Chevron ball by GM, this is a real leather cricket ball with one side as smooth and the other side with smaller holes which help the ball swing in the air. Looking at the ball you can understand how ball tampering can give an unfair advantage to the bowler. For training purposes, this ball is great for learning how to play a swinging ball in the air. This is a normal hard cricket ball so protection is needed for batsmen while practicing with a fast bowler or a bowling machine.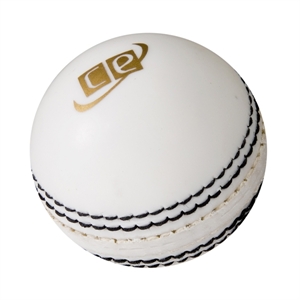 The third practice ball on our website is Seamer by CE USA. This ball does not do much in the air but it nips in and cuts out after pitching, the ball has to be pitched with the seam upright to get the desired result. The fast bowlers can learn the importance of keeping the seam upright by trying to pitch the ball and hitting the seam on the ground. If pitched with the seam upright the ball will deviate in or out, the ball is lightweight as compared to a normal cork ball but a bit heavier than a tennis ball. The bounce of the ball is almost the same as a normal cork cricket ball.

The three different variations of practice cricket balls (SwingKing, Chevron, and Seamer) have different attributes and can be exceptional training aids for both batsmen and bowlers alike.