Atlanta GA - Nov 25, 2011
- The official ball maker of
US Cricket Open 201
1 and the sponsor tournament gets ready to arrive in South Florida to attend the historic cricket tournament in South Florida. The
white cricket Revolution cricket balls
with Cricket Equipment USA and US Cricket Open logos has been designated as the official ball of the tournament.
The third annual edition of Cricket Open is about to commence in South Florida, there are number of participating teams gathering in Florida to compete for the prestigious trophy and the generous prize money of
US$ 50,000
. "
We are excited to be a part of this historic occasion and I am static at the prospect of meeting world class talent at the venue
" said
Gohar Siddiqi
the President of
Best Soccer Buys
and
Cricket Equipment USA
.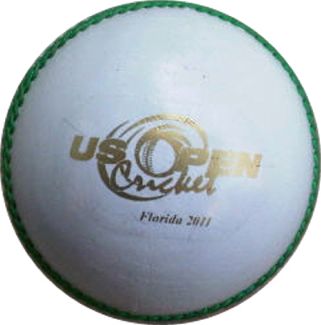 Cricket Equipment USA has made the official white cricket balls for the tournament. The balls will be used in all games to be played in the tournament. In addition to balls the company has also made official shirts for Umpires and Scorers. The company has recently launched a full range of cricket products for American market, their CE branded products with American flag will be displayed at their sponsors booth in Cricket stadium at
Boward Park
.
Cricket bats like T-20 Daisy Cutter
,
Fireworks
and
Light Speed
will be showcased at the booth. In addition to bats the full range of protective gear,
cricket kits and kids gear
will be also available for purchase at the venue.
The tournament is expected to bring young American talent to compete in
T-20 games
; some
former International cricketers
from different cricket playing nations will also be present to delight the spectators with their skill and charisma. All matches will be held at different cricket grounds with the cricket Stadium at Boward Cricket Park as the main venue. The event will last for four days starting on
December 1st 2011 and ending on Dec 4th 2011
.
Cricket Council USA
the organizers of the tournament has also announced free admission to general public throughout the tournament. It will be a great opportunity for mainstream Americans to learn the game and feel the excitement generated from the fast paced
T-20
version of Cricket.