Selecting the Right Cricket Bat
Following are the factors that play a critical role in selecting the best bat:
Willow Source
Only the highest grades of willow can produce the finest quality cricket bats. The world's best raw materials are needed for manufacturing excellent willows. Cricket bat willow is primarily sourced from the UK and Kashmir.
Willow Grade
Willows grow to a maximum height of about 70-90ft. The diameter is 3-4ft. Trees grown for making cricket bats are felled after reaching a circumference of roughly 56". The density of the wood as well as consistency of the grain right through a cricket bat's playing area is critical to the end balance and its performance.
Size
Getting the correct size bat is critical for the development of budding cricketers. It is vital the bat is not too long and not too heavy to prevent good technique and fluent stroke play. Junior bats are proportionately scaled down in weight and size for meeting this important requirement. Heavier bats will result in a slower bat speed than lighter ones. Also, a greater effort is needed to use it, whereas a lighter bat will result in faster bat speed and allow batsman to middle the ball better.
Grains
This is an aspect often overlooked by most young cricketers who buy bats. The number of grains on your bat holds key to its performance. One with narrow grains (more grains across the blade) will boost your performance as a batsman.
If you look carefully at the professional cricket bats on our website you will be able to see the grains on the bats. For example, our CE limited Edition Revolution cricket bat and Stealth has clean straight lines have around 10 to 12 grains. Other high-quality English willow bats such as Ihsan's Lynx series or Gunn & Moore's Icon models are examples of high-quality English willow bats. Make sure you click on the thumbnails of the pictures to see the larger image of these bats.

Selecting the Right Batting Gloves
Batting gloves will protect your fingers from injury. Following are the things that need to be considered when selecting the best batting gloves:
Complete protection
When you are looking at and evaluating which batting gloves to buy a pair of gloves from available options, look at the fingers of the gloves to check that each finger of both batting gloves carries flexible padded areas. Also, check that the thumb of the bottom hand (left hand for a left-handed batter and vice versa) sports extra protection.
Measurement
The critical measurement, you should note that, is from the beginning of the wrist to your longest finger's tip, in a straight line.
Selecting the Right Batting Pads
Batting pads will protect your legs. Following are the factors that play a critical role in selecting the best pads:
Customization
Cricket batting pads are one of the most important pieces of equipment that you require when you start playing the game. In the beginning, you may opt to borrow them from one of your teammates or club. But at some stage, you will have to buy them. This is where customization and understanding what exactly you need come into play.
Comfort and ease of usage
Ensure that you get a pair, which fits your legs properly and is comfortable to wear. If you get a good pair of pads, which suits your style and stance, you will feel much more comfortable while batting.
Measurement
Perhaps the most critical measurement to consider when buying a pair of pads is the approximate distance down to the instep (where the tongue of your shoe would rest) from the middle of the knee cap. Pads are available in various sizes to suit different players. (Sizes may vary slightly from one make to another.)
Selecting the Right Helmet
In a game of cricket, batsmen are often required to wear a solid and sturdy helmet for protecting themselves from any serious injury by the hard cricket ball, which can be bowled at a high speed. Go through these tips for choosing the best helmet:
Good fitting
A helmet should have a good fitting. A good fitting helmet is worn with the peak usually protruding horizontally from the line of a batsman's eyebrows.
Weight
Apart from being steady and solid, a helmet needs to be light in weight. It should allow airflow apart from the provision for a comforting sweat absorption material.
Foolproof protection
A helmet should dissipate shock and hence minimize head injury. It should feel firm but comfortable from a wearer's perspective. There should be no excessive or unwanted movement in any direction to disturb the batsman. It is recommended that a batsman always fastens the chin strap for added security.
Measurement
To measure, you should run a tape measure just above the eyebrows, around the middle of the forehead and also around the side (slightly above the ears to the 'bump' on the back of your head). Over a period of time, the internal padding will mold to the shape of a wearer's head.
Selecting the Right Wicket Keeping Gloves
In a game of cricket, it is not easy to find a substitute player for a wicketkeeper from the playing eleven, which is exactly why it's critical to buy wicket-keeping gloves of the highest standard. We provide some suggestions for purchasing the best wicket keeping gloves:
Thorough protection
Broken fingers are one of the most serious risks on the cricket field as far as a wicketkeeper is concerned. But for a glove, it can get very painful when the ball thuds a wicketkeeper's fingers! Look at the fingers of the gloves to check that each finger of both batting gloves carries flexible padded areas.
Measurement
The critical measurement, you should note that, is from the beginning of the wrist to your longest finger's tip, in a straight line.
Selecting the Right Wicket Keeping Gloves
A wicketkeeper is unarguably the most active individual on the field. He needs to watch each and every ball, take crucial catches, stop byes, effect stump-outs and encourage his team members. Here are some tips for getting the best wicket keeping pads:
Ease of usage
As is the case with batting pads, it is necessary that the wicketkeeper gets a pair of pads that will fit his legs and will aid smooth movement behind the stumps. Comfort and ease of usage is the most critical factor.
Complete protection
Wicket-keeping pads will protect the legs from a painful blow. The best wicket-keeping pads are designed with all the necessary protection for any level of play. Check for the sturdiness of calf and ankle straps.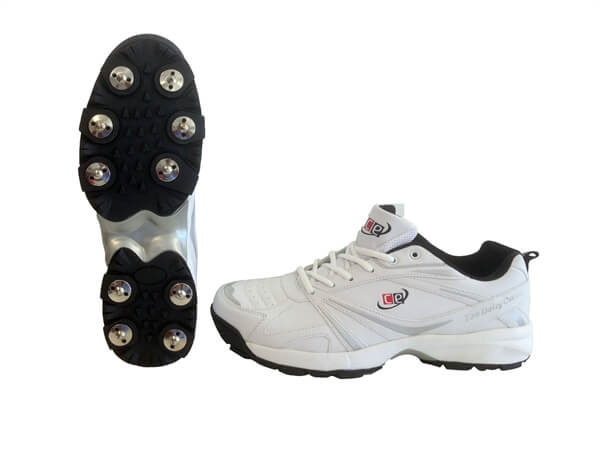 Selecting the Right Cricket Shoes
From point of view of smooth and precise foot movement either for a batsman or bowler as well as fielders, getting the right cricket shoes is critical. Following tips will help in this task.
Comfort and grip
The most important things to consider while buying cricket shoes are their comfort and grip.
Suitability for a playing surface
You can select your variety of cricket shoes depending on the type of surface you are going to play on. To elaborate, spiked shoes are good for soft ground, whereas pimpled rubber soles are suitable for hard ground. You can also seek a combination of both types - spikes and pimples.
Batsmen generally prefer shoes with sturdy spikes at the front for proper grip combined with rubber-treaded heels. Fast bowlers usually prefer shoes that have spikes at the front and back along with good support around the ankle area. For batsmen, multi-option cricket shoes with rubber studs and spikes and bowlers prefer full metal spike shoes. Selecting multi-option cricket shoes allows the batsmen to mix metal spikes and rubber studs, most prefer to have metal spikes in front and rubber studs on the heel.
Size
Most shoe sizes in an online store will be quoted in UK sizes. Over the last couple of years there has been a visible improvement on part of all manufactures in standardizing sizes; this alongside normal shoe sizes. As a result, you should feel reasonably comfortable in making the right choice on basis of your normal shoe size, but don't forget to account for a thicker sock when you size up a shoe. The new CE branded shoes are available in American (US) sizes so it is easier to select the correct US size and avoid confusion.