Different Flavors of Cricket
There are three major forms of cricket at the time of writing.
Test Cricket (oldest form of cricket)

One Day Cricket (ODI's)

T20 Cricket (The shortest form of Cricket)
Test Cricket
Despite the fact that cricket has become a very fast game over the past few years, Test cricket remains there in its original form with its charm and charisma. Test cricket is the oldest (and the longest of course) form of Cricket that has a rich history that extends to more than 100 years back.
History:
As mentioned earlier Test cricket is more than 100 years old: The first Official test match was played between Australia and England at Melbourne Cricket Ground (MCG) on 15th of March 1877. Both teams Australia and England are considered to be the greatest rivals on the cricket field to this day and MCG is known as one of the most prestigious cricket fields on this planet. Australia won this first-ever Test Match by 45 runs. It was a two-match series that ended up in a draw (1-1).
Although this match is considered to be the first official Test match between two nations however this was not the first international cricket match. The contest between teams of USA and Canada on 24-25th of September 1844 is considered to be the first-ever International Match. Notice that both teams don't have test status at the time of writing.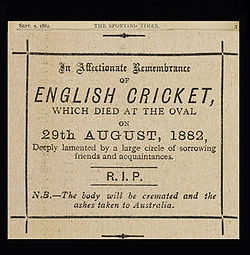 On the 12th of March 1977, a Test Match was commenced between the old rivals England and Australia to celebrate 100 years of Test Cricket. Amazingly Australia again won this match by the same margin of 45 runs.
Test Playing Nations:
Unlike ODI and T20 cricket, only the nations having Test status from International Cricket Council are eligible to play Test matches. This status is awarded on the basis of many factors including the team's performance in shorter forms of the game. At the time of this writing, only nine nations have this status. Bangladeshi team is the latest member of this elite group.
There are a total of 10 Test-playing nations at the time of this writeup (July 31st, 2011)
| | |
| --- | --- |
| Country | Date first Test MAtch was played by country |
| England | March 15th, 1977 |
| Australia | March 15th, 1977 |
| South Africa | March 12th, 1889 |
| West Indies | June 23rd, 1928 |
| New Zealand | January 10th, 1932 |
| Pakistan | October 16th, 1952 |
| Sri Lanka | February 17th, 1982 |
| Zimbabwe | October 18th, 1992 |
| Bangladesh | November 10th, 2000 |
Some Famous Test Matches:
England vs. Australia: 1882
Aussie fast Bowler Fred Spofforth took 14 years to defeat England by Seven runs. This defeat was taken very seriously by British newspapers. One paper declared the defeat as the death of English Cricket and Ashes to be taken to Australia. This gave birth to the oldest and un-arguably the best test series in history "The Ashes".
England vs. Australia: 1981
Yet other Ashes nail biter between the old rivals. Ian Botham led the English Batting lineup with his special 149. Bob Willis then bowled one of the greatest bowling spells of all times by taking 8 Aussie wickets for just 43. England went on to win the match by 18 runs. Ian Botham was later knighted for his services to English Cricket.
England vs. Australia 2005:
Yet another Ashes Test match, the match played at Edgbaston in the famous 2005 Ashes series is considered to be one of the greatest Test matches ever played. England won by mere two runs after a solid fight from Aussies. They scored 104 runs for their last two wickets but were unable to win the match. Match proved to be a turning point in the series and England went on to win the Ashes.
One Day Internationals (ODI'S)
The One Day International Cricket proved to be the start of a completely new era of Cricket, which was fast, more entertaining, and full of thrill. Despite the rising popularity of T20 Cricket One Day cricket is still considered to be the most popular form of cricket and is enjoyed among all age groups.
History:
The ODI cricket has a very interesting history; in fact, the first official One-day international match was played due to bad weather. Again the first ODI just like the first Test Match was played between the old rivals: Australia and England on the 5th of January 1971. The first three days of the match were washed out by rain and officials had to abandon the match without any result. As thousands of people had bought tickets for the match therefore to please the crowd, series officials decided to contend a 40 over match between both teams. Each over consisted of 8-balls, just like the first-ever Test: Australia won this match by 5 wickets. Since then the number of overs in an ODI match has changed to first 60 and then 50.
However, the birth of modern One day International cricket is due to Kerry Packer's efforts in the late '70s to start a World Series competition. This series is known as the world cup these days and most of the features in ODI cricket are taken from the early Kerry Packer World Series. Kerry introduced many exciting features to make the game entertaining including colored uniforms and white ball. Introduction of Day and night ODI's gave a new life to the One Day International Cricket. Kerry Packer is known as the father of modern ODI cricket due to his efforts.
Some Famous ODI matches:
India vs. Pakistan 1986:
The greatest Cricketing rivals of all times went head to head in Sharjah. Pakistan required 4 runs to win from 1 ball; Javed Miandad hit a six to take Pakistan over the victory line. Javed Miandad was declared a national hero and is still known for his last-ball sixer.
South Africa vs. Australia 2006:
The famous nail-biter played among two of the best Cricketing nations at Johannesburg is considered to be the greatest ODI ever played. Over 10 different records were broken in the highest run chase ever. South Africa won the match after Aussies posted a mammoth total of 434.
South Africa vs. Australia 1999:
Yet another close contest between two of the world's best One-day teams; It was the semi-final of the 1999 world cup. Australia scored 213 (All out) in their allotted 50 overs. South Africa thanks to their hard-hitting all-rounder Lance Klausner took the game to the wire. Match ended up as a tie and Australia qualified for the final on a net run-rate basis. Aussies went on to win the world cup after defeating Pakistan in a one-sided match.
Pakistan vs. India 2011:
Yet another Pakistan vs. India close contest recently played semifinal of 2011 world cup is up there with the best. India won the match by 29 runs thanks to marvelous innings of 85 by Tendulkar.
T20 Cricket
Twenty-Twenty cricket (also known as T20 cricket) is the shortest, fastest, and arguably the most popular form of Cricket. It is the youngest inclusion in the International Cricket arena and in a short period of time it has gained huge popularity among cricketing fans (especially younger ones). The T20 cricket is taking cricket to a new commercial level and no doubt this shortest form of the game has provoked the interest of many people who were unaware of the game prior to T20. Criticism has been made by experts as well as fans about the involvement of too much money and more than required pace into the game due to T20. However, the fact remains that with every passing day the popularity graph of T20 has been rising rapidly.
History:
There have been different theories floating regarding the history and origin of T20 Cricket. Many countries and cricket boards have claimed to be the originator of this form of the game. The reason behind this is that T20 cricket has been played at domestic levels for many years before it was introduced at the International level. According to one theory first T20 series was played in Pakistan in the late '90s in the domestic circuit. However, according to various credible records, England is the birthplace of T20 Cricket. T20 matches were played because they were short and were suitable at night in areas where daylight was not great.
The first official T20 series was started by England Cricket Board (ECB) in early 2003. This was a domestic series among various English counties. Since then this lively format of the game has spread among the cricketing arena. Now Twenty 20 is an official part of International cricket and every series contains at least one or two T20 matches. In fact, the T20 world cup has been organized on a regular basis since 2007. The first T20 world cup was won by India as they defeated Pakistan in the final.
The first official International T20 Match was played between Australia and New Zealand on the 17th of February 2005 at Eden Park Auckland. Australia won the match by 44 runs. Since then over 200 International T20 matches have been played and ICC keeps the official ranking of T20 teams, players, etc.
Memorable T20 Games:
Pakistan vs. India 2007
The final match of the first T20 World Cup between famous rivals India and Pakistan is considered to be one of the best T20 matches ever played on an international level to date. Like most of the games between India and Pakistan, it was a close contest and India won the match by a small margin of 5 runs to become the first T20 champion.
Australia vs. New Zealand 2006:
It one of the highest-scoring T20 matches ever played. Match ended up in a tie as both teams scored an astonishing 214.