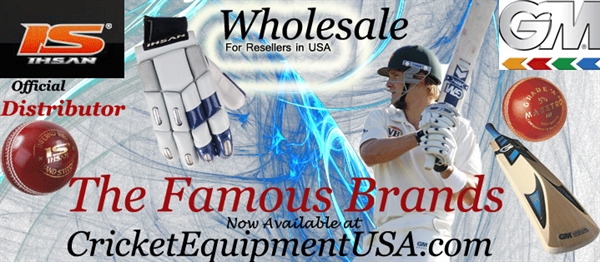 If you are a reseller with a registered business in the USA or possess an e-commerce business and are interested in purchasing Ihsan and Gunn & Moore cricket products at wholesale prices then please fill out the online reseller registration application.

After you have filled out the form, we will review the application and will notify you once you are approved. You will then be able to access the website as a reseller. You will see the wholesale price when you are logged in as a reseller.

Currently, we have three manufacturers who are associated with this program; CE USA & MB Malik, Ihsan and Gunn & Moore. Upon logging in as a reseller, you will only be able to see products from our two manufacturer partners.
The minimum dollar amount to purchase at wholesale is set to US$ 1000.00 for Ihsan and CEUSA & MB Malik products and US$ 2,000 for Gunn & Moore products. It will take approximately 2 months for delivery after the final receipt of your order.
So, why is this a good time to be a reseller of cricket equipment? The inception of the Indian Premier League and the other such cricket leagues have sparked off a cricketing revolution in the world. More youngsters are taking on the sport in the USA also, which was earlier said to be a game for only for those eight or ten top nations. Today, club cricket has taken root in every nook and corner of the world along with the USA.

Did you know that China will have 20,000 cricketers in the country by 2015 and aspires to qualify for the 2019 World Cup? That USA may have its own IPL-like tournament soon? That even as you read this, there are matches between the non-Test playing nations like Afghanistan, Canada and Ireland going on in the ICC's Intercontinental Cup?

To cut a long story short, cricket is spreading its wings as a truly global sport. More children are taking on the game, and as a result, there are more professionals playing cricket. With this, the requirement for cricket equipment is only going to shoot up exponentially; which is why this could be a good time to be a cricket equipment retailer!

You can have a look at the Ihsan Inferno range of equipment which is currently used by the West Indian skipper, Chris Gayle or the same range of cricket pads, gloves, balls, or any other piece of equipment that you may need by Ihsan. The Gunn & Moore equipment, which is used by an elite list of cricketers all over the world, including Mark Boucher (Apex DXM), Shane Watson (Flare DXM), Jonathon Trott (Icon DXM), Herschelle Gibbs (Hero DXM), can be found here.

We look forward to new resellers in the USA joining our program and playing a distinguished part in promoting cricket in the United States of America.